Esports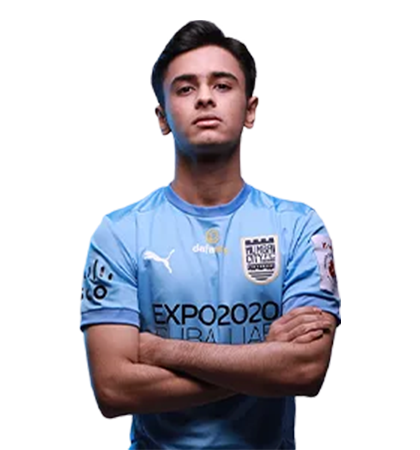 About Siddh 'Jenasid' Chandarana
Say hello to Siddh Chandarana - one half of Mumbai City FC's newly-formed Esports team and a part of the first ever Indian club to participate in the prestigious FIFA Global Series.
Mumbai born and bred, Siddh has always been an ardent football fan who loved watching the sport as much as he loved playing it – so much so that he harboured dreams of playing for India. However, an unfortunate turn at a very young age meant Siddh was advised by doctors to stay away from playing football due to a respiratory condition.
A cruel twist of fate wouldn't stop Siddh from being around the beautiful game and he took a liking to the virtual side by playing FIFA. After dabbling in local competitions and realizing his potential, Siddh embraced FIFA professionally and began his journey by playing tournaments in India and overseas.
Jenasid, as his gaming moniker goes, has played for globally renowned teams like M10 Esports and Futbolist. The 21 year old also joined the first ever roster for the Indian National Esports Team for the 2021 FIFA eNations Series, before joining the Islanders ahead of the 2021-22 season along with fellow Esports professional Saksham 'Sakkyy' Rattan. The duo will compete in the FIFA 22 Global Series from the South Asia region in Mumbai City Esports' historic first season competing at the world stage.
"Being a Mumbai boy and a Mumbai City fan, it was impossible for me to turn down the opportunity to represent my home club. I know what it means to be a Mumbaikar, to live and feel that spirit of the city. Naturally, I want to do what I love the most with the team and the city I love the most and I am confident that this is where I am supposed to be. Saksham and I have played together and against each other plenty of times and we're prepared to take this challenge head on, do our absolute best and compete well," said Siddh on becoming a part of the first ever Esports roster in the history of Mumbai City FC.