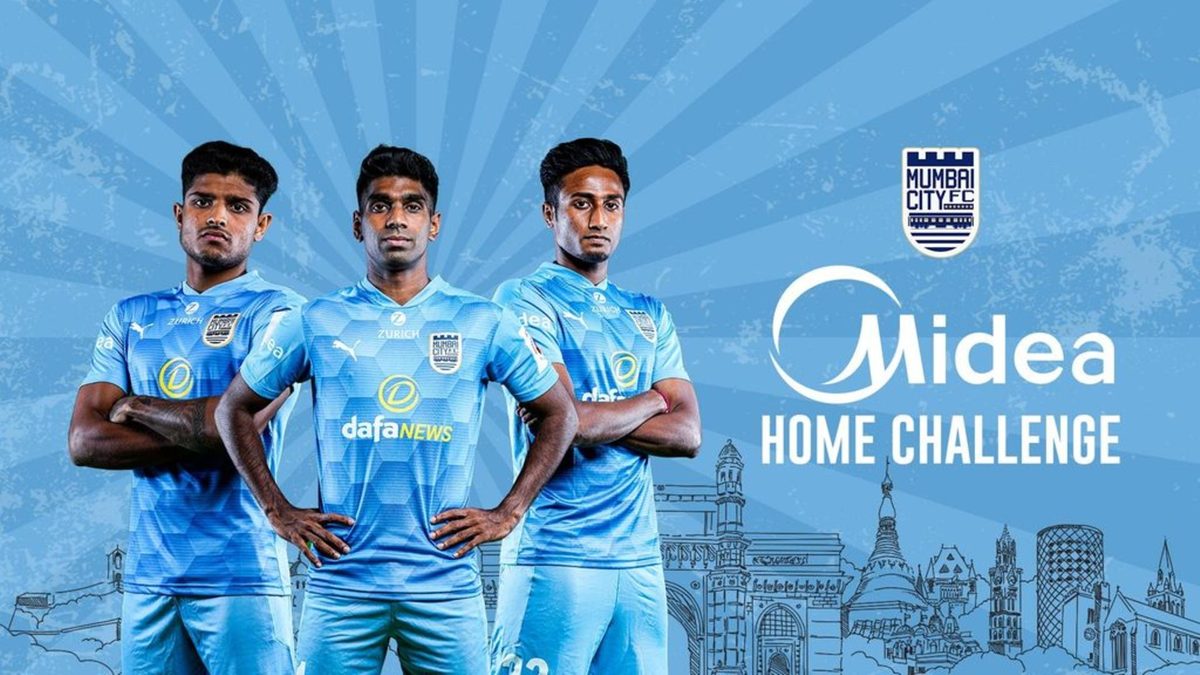 This contest, being organised by Mumbai City FC Private Limited ("MCFC") in collaboration with Midea India Private Limited, a company registered under Companies Act, 2013 and having its registered office at 7th Floor, Pearl Tower, Plot No.51 Sector -32, Gurugram, Haryana – 122001, India ("Midea"), is set up for contestants to participate and complete challenges through a Video (defined below) to be uploaded by the Participant on their Social Media Account (defined below). MCFC shall be entitled to determine, at its sole discretion, the best videos and the winners shall be awarded Prizes (as defined below).If you wish to participate in the Contest, you agree to adhere to and be unconditionally bound by the following terms and conditions:
Details of the Contest:
MCFC and Midea (collectively as "We") are hosting a contest where videos of a few first team football players of Mumbai City FC doing certain challenges ("Player Videos") will be uploaded by the Participant on their social media accounts ("Social Media Account")tagging Mumbai City FC. Any person, irrespective of their age, gender, nationality, etc. ("Participant") can participate in the contest where the Participant shall upload their Video doing the challenge set out by the players through the Player Videos ("Contest").
How to Participate:
1. This Contest will commence on July 28, 2021and shall end on August 25, 2021.
2. Upon commencement of the Contest, you shall be required to introduce yourself, mention the city you are from,record a video of you solely doing the challenge ("Video")and upload the same on your Social Media Account while tagging Mumbai City FC with the relevant hashtag.
Process:
1. The Prizes shall be delivered to the Winning Participants at the address provided by the Winning Participants only in the cities of Mumbai, Kerala (Cochin and Trivandrum) and Kolkata. It is clarified that MCFC and/or Midea, shall not be obligated to deliver any Prizes to any address of Winning Participant(s) outside the cities mentioned herein and MCFC and Midea shall not be held liable for the same.
2. Upon your uploading of the Video in the manner stated above, MCFC may evaluate, at MCFC's discretion,the Videos that MCFC deemsfit for winning the Contest ("Winning Participant(s)").
3. MCFC shall decide 4 (four) winners at their discretion who will be awarded Prizes as mentioned below.
4. Further, MCFC shall be entitled to repost or reshare the Videos on their social media handles and websites as they may deem fit without any compensation to the Participants and Participants shall not object to the same.
Prizes:
The Winning Participant(s) as determined by MCFC in their sole discretion, shall be announced on the Social Media Accounts on MCFC's Facebook, Instagram and Twitter handles and website and shall receive one of the following prizes ("Prizes"):
1. 1st Place Prize - MideaAC
2. 2nd Place Prize – Midea TL Washing Machine
3. 3rd Place Prize - Midea Single Door Refrigerator (Mini Bar)
4. 4th Place Prize - Midea OTG (Toaster and Oven)
We shall not be required to make any monetary payments to you as gratification and/or for the ownership and/or exploitation of the Video or incur any costs on behalf of you for creation of the Video.
It is clarified that the Prizes are non-transferable. Winning Participant(s) shall not be permitted to ask for the Prize value in monetary terms. The Winning Participants shall receive the Prizes as mentioned above. In the event the Winning Participant chooses not to accept his/her Prize, the relevant Prize shall be deemed forfeited by the Winning Participant and MCFC shall be entitled to select a winner from the remaining Participants at their sole discretion.
Other Conditions:
1. It is clarified that no affiliates of MCFC, Midea, Contest winner selection committee, or carrier Midea brand shall be eligible to participate in the Contest.
2. Your personal data including sensitive personal data collected by us through the Video (if any) shall be used by us in accordance with the applicable laws of India and you hereby agree that you have no objections or claims against us for use of your data/attributes like name, photographs, biographic materials on any Modes, Media, Formats for the purposes of the Contest.
3. You understand that we are under no obligation to examine or access your Video (as the case may be).
4. All decisions shall be at MCFC's sole discretion and are final in all matters relating to the Contest. We reserve the right to disqualify any Participant or Winning Participant at our absolute discretion, without notice, and you shall not have any objection to such decision. In the event of any dispute regarding these Terms and Conditions and/or the results thereof and all other matters relating to the Contest, MCFC's decision shall be final, and no correspondence or discussions shall be entertained by us.
5. We are not liable and/or accept no responsibility for entries that are delayed, misdirected or incomplete or cannot be delivered or entered for any technical or other reason.
6. You agree to provide us with any information or documents as may be requested by us or any other authority without any protest for the purpose of enabling us and/or such authority to verify the accuracy of the information provided by you and conformity of your acceptance of use of the Video by us.
Ownership and/or exploitation of Video:
1. By uploading the Video and in consideration of you having the opportunity to participate in the Contest,you expressly agree and understand that all the intellectual property rights in the Video shall be solely, absolutely, irrevocably and unconditionally owned and/or exploited by MCFC throughout the world in perpetuity on all modes, media, formats and platforms now know or commercially used or devised in the future ("Modes, Media, Formats").The Participant shall be required to execute any and all documents in such manner and at such location as required by us in our interest to protect, perfect, confirm or enforce the existence of the preceding and to effectuate its purpose to convey all rights in the Videoto MCFC assignees, including without limitation any exploitation on Modes, Media, Formats developed in the future.
2. You acknowledge that we shall not be liable to make any monetary payments to you in relation to the Video. You shall have no objection towards us displaying or not displaying the Video on any Modes, Media, Formats. Weshall not require any further consent or approval from you for use of the Video on any Modes, Media, Formats.Any proceeds or revenue earned by exploitation of the Video shall solely vest with usand you shall not have any claim against us for any such revenue/payments.
3. We shall have no confidentiality obligations in relation to the Videoat any time whatsoever. You acknowledge that once the Video is uploaded or posted on any Modes, Media, Format, including any Social Media Account, it will be in public domain. Youmust, at all times, refrain from disclosing or posting any sensitive personal data and information such as your contact details, financial information, credit or debit card details, email addresses in your Video.We shall not be responsible for any misuse of such personal information. You agree and acknowledge that we may retain and disclose your information if we are required to do so by law or if we believe in good faith that such access, preservation or disclosure is reasonably necessary for any reason that we deem fit.
4. You shall not without our specific prior written consent publish or disclose any information in connectionwith the Contest. You shall not be entitled to give interviews or be involved in articles or reports in respect of the Contestwith any third party.
5. You shall not hold MCFC or Media liable for any injury sustained by you or any person associated with you while performing the challenge for the Contest.
6. You agree and undertake that the Videoshall not violate or be detrimental to the rights and interests of any other persons and shall not be unauthorised or illegal actions in any manner whatsoever.
Your representations, warranties and other covenants
1. You represent and warrant that you shall not host, display, upload, modify, publish, transmit, update or share any information/ content/Video which:
a) Belongs to another person and which you do not have any right to use;
b) Is grossly harmful, harassing, blasphemous defamatory, hurts religious sentiment, obscene, pornographic, paedophilic, libellous, invasive of another's privacy, hateful, or racially, ethnically objectionable, disparaging, relating or encouraging money laundering or gambling, or otherwise unlawful in any manner whatever;
c) Harm minors in any way;
d) Infringes any patent, trademark, copyright or other proprietary rights of any person;
e) Violates any law for the time being in force;
f) Deceives or misleads the addressee about the origin of such messages or communicates any information which is grossly offensive or menacing in nature;
g) Impersonate another person;
h) Contains software viruses or any other computer code, files or programs designed to interrupt, destroy or limit the functionality of any computer resource;
i) Threatens the unity, integrity, defence, security or sovereignty of India, friendly relations with foreign states, or public order or causes incitement to the commission of any cognisable offence or prevents investigation of any offence or is insulting any other nation.
2. You agree that you shall not act in any manner which will be prejudicial to or detrimental to the our interests, the Contestor any other contestant/winner(s) of the Contestor any other person or generally the public at large by engaging in illegal, inappropriate, unauthorised activities of any manner whatsoever including activities, tactics which may be insulting, offensive, defamatory, slanderous, libellous, vilifying, cause a threat to life or property or intruding the privacy of any other person. Any such prejudicial, detrimental or unauthorised activity shall give us the right to immediately terminate your place in theContest, without having any impact on our ownership in the Video.
3. You acknowledge and agree that we shall not be responsible for any inherent risks of using yourVideo on the worldwide web or internet generally including phishing, hacking, corruption of data, piracy and the like. You agree that by allowing us to commercially or non-commercially exploit the Videoin such manner as we deem fit, you assume all associated risks of uploading content on the internet.
4. You shall be solely responsible for theVideo that is uploaded by youand you shall be liable for any injury, damage and consequences that may arise due to posting such Video. You are hereby advised to make all inquiries that may be deemed necessary prior to uploading the Video. We will not be liable to you or any other person in any way for any costs or consequences due to theVideo that is exploited by us.
Governing Law and Jurisdiction
You agree that the Contestand Terms and Conditions will be governed by the laws of India and will subject to the exclusive jurisdiction of the competent courts of Mumbai. No associations, unions or guilds shall have any jurisdiction in relation to the same.