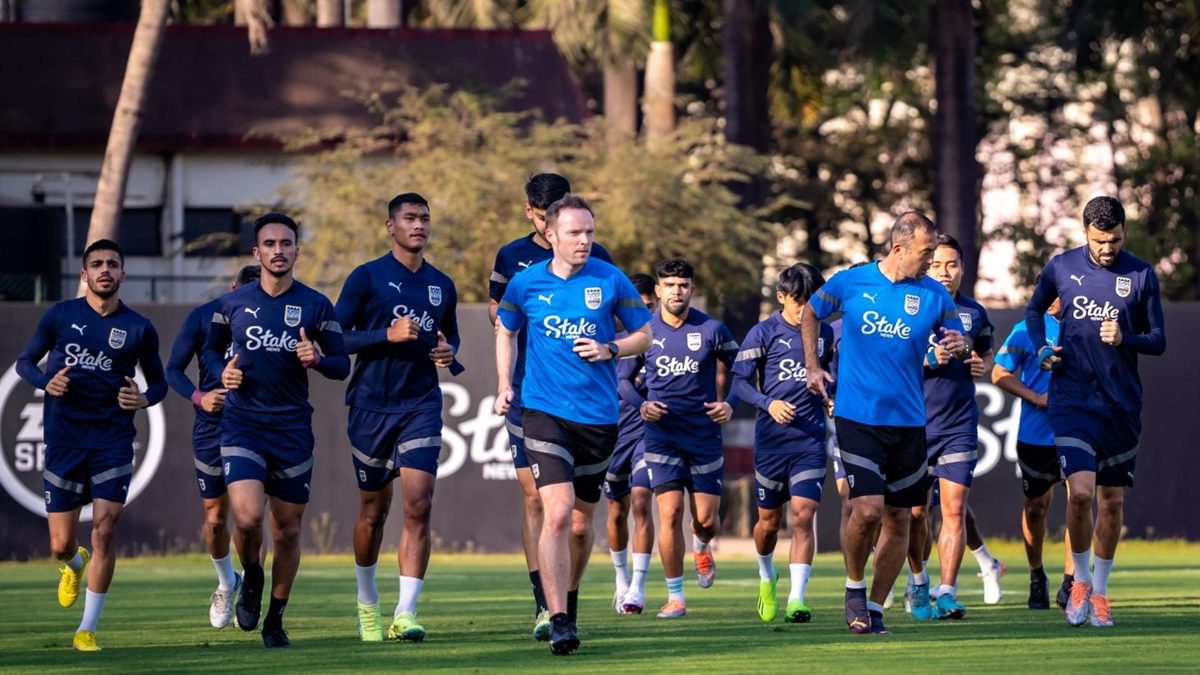 The Islanders' most successful season in ISL League history will culminate on Sunday when the League Shield Winners Mumbai City FC take on East Bengal at home. The West Coast Brigade will rejoice at the return of the Islanders to their home stadium for the first time since they clinched the League Winners' Shield title with two games to spare. Moreover, the Islanders will be presented with their prize - a second League Winners' Shield in two years - in front of their fans on an evening that promises to be a special and momentous affair.
East Bengal, who are placed ninth on the table, are coming off a draw and a defeat and will be keen to end their season on a high note. The previous clash between the two teams saw Mumbai City FC defeat East Bengal 3-0. The Islanders will take on East Bengal at the Mumbai Football Arena on the 19th of February 2023 at 7.30pm IST.
Mumbai have breathed rarified air this season, with 46 points in 19 games, they have led the league on various fronts. A potent offense has ensured that they have scored the most goals (54), while a formidable defense has made them concede just 20. They sealed the League Winners' Shield against FC Goa, in a thrilling 5-3, triumph, where the Islanders came from behind to secure the victory. An otherwise undefeated campaign was derailed last week at the hands of a resurgent Bengaluru FC. A hard-fought encounter ended with a rare 2-1 defeat for the Islanders, the first defeat for Des Buckingham's side in over 11 months.
East Bengal are currently placed ninth on the table, with two games left, Jamshedpur FC are hot on the heels of East Bengal, trailing them by a mere three points. It is imperative for East Bengal to win their next two games to hold on to their current berth. East Bengal drew their encounter against NorthEast United and suffered a 2-0 loss to Chennayin FC. However, a win against a formidable Mumbai squad will do wonders for the morale of the East Bengal Unit.
Des Buckingham in the pre match press conference spoke about the importance of finishing the season on a strong note. He looked back at the season and acknowledged their successes and also spoke about looking forward straight away in order to be prepared for the challenge of the semi–finals. "I'm really looking forward to this game. It's an opportunity for us to try and finish the season strong. When I look back over the last 10 months in particular, at what we as a club have been able to achieve from the AFC Champions League, finishing second in that group and putting together some excellent performances in the Durand Cup and to then go on and be able to secure the League Winners' Shield. To do that in the way that we did in terms of the football we played and the records that we broke and obviously not losing a game on that journey up until last week - it's a wonderful achievement for everyone. So we will look back at the end of the season and what's been achieved. It's important we recognize it because there are some wonderful things to come from it. But we are looking forward straight away as East Bengal is a competitor and of course, making sure we prepare and get ready for what will be a very tough encounter in the playoffs regardless of who we face."
Des Buckingham also went on to commend East Bengal's Cleiton Silva on his goal scoring prowess this season but reiterated that their process focuses on themselves rather than what the opposition is doing. He said, "I think it's a wonderful achievement for Cleiton and regardless of what they (East Bengal) do and how they play, for a team in ninth position to have the current leading goal scorer in the league, that says so much about Cleiton and his attributes and his qualities. But you know we don't often look too much at the opposition or opposition players. We do enough to be respectful and make sure we prepare our players and our team for what we think we may face and, of course, Cleiton is one of those. We'll make sure we set ourselves up to play the football we want on Sunday. It's always been about us and making sure we prepare ourselves as well as we can because we have control of that."
Rahul Bheke spoke about the team morale following their first loss of the season. He mentioned that the players were disappointed with the loss but emphasized that their target is still ahead of them and the squad is focused on achieving it. He also stated that a victory against East Bengal will put them in good stead ahead of their play-off matches. "The players were not happy because we got our first loss of the season. Obviously, our target is to keep getting better and win as was as many games as possible and there were only two games left in the league. We know it was not a good game and we lost. But everyone is more focused on the coming games and everyone knows that the target for the season was to win the League shield and then win the ISL. One has been achieved and now everyone is focused on the next one. We know the game against East Bengal is important even if it's the last game of the league. It's important that we make a positive end to the league and particularly before the playoffs so everyone is very much rearing to go."
Before concluding, Bheke added about the privilege of being a leader of this team and doing so as a local Mumbai boy. He said, "As a local lad, and as a player, I'm really proud of what we have achieved this season right from the start it was a target to keep getting better game by game and we have done that really well. It is always a special feeling for me to represent Mumbai and gets even better when we get to play at home and celebrate with our fans as we will hopefully be doing tomorrow."
Where To Watch
The game will kick off at 7:30 pm IST and will be broadcast live on the Star Sports Network, Hotstar, and Jio TV for all viewers in India. For our global fans, you can download the OneFootball app, find your broadcaster at indiansuperleague.com/broadcasters or follow all the action LIVE on our official Twitter account - @MumbaiCityFC.