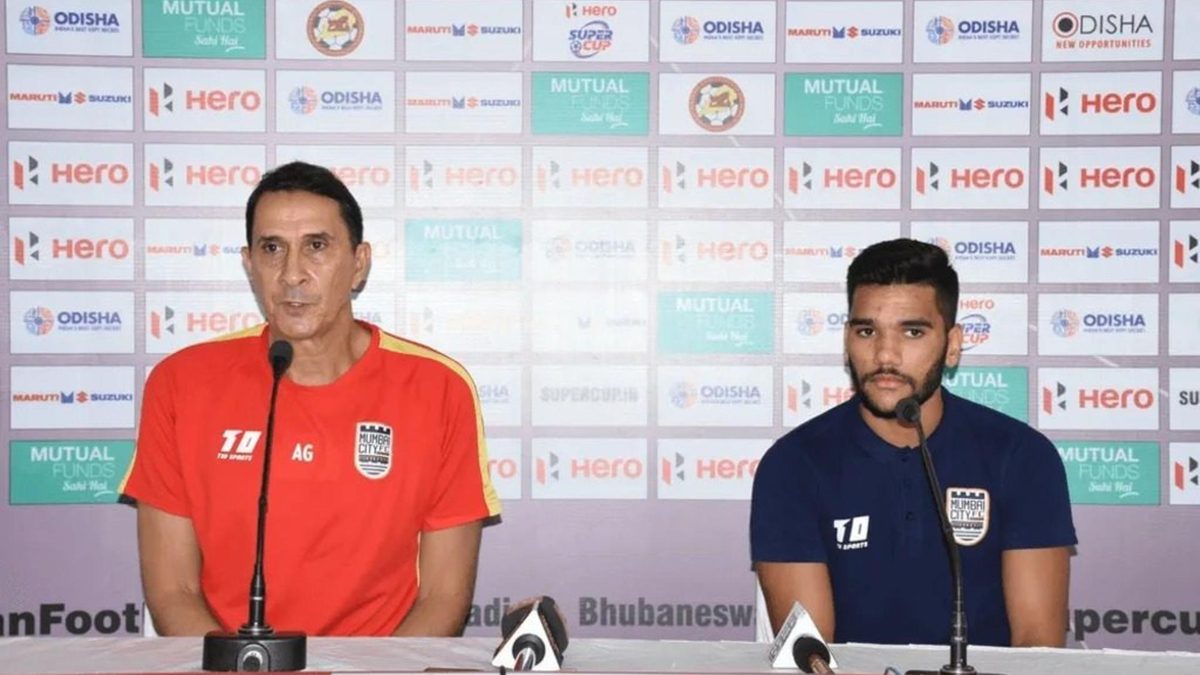 The Islanders return to action after a long break. They beat Indian Arrows by 2-1 courtesy an extra-time winner from Everton Santos in the 104th minute. Another I-League team, Kingfisher East Bengal FC awaits The Islanders as they look to book a berth in the quarter-final of the Hero Super Cup.
Ahead of the encounter, coach Alexandre Guimaraes midfielder Sahil Tavora faced the media in their pre-match press conference yesterday. Here are the excerpts from it:
On facing Kingfisher East Bengal
We had a very tough game against Indian Arrows the last time around. And most games have gone down to the wire, contrary to what people thought. The Bengaluru (vs Gokulam) game was tough, the Chennaiyin (vs Aizawl) game was tough and this is going to continue throughout.
Every team wants to win. For our game tomorrow, we're training hard. We know we're playing a team that has a huge history in Indian Football and is one of the most successful ones.
And we're playing against a team that draws huge crowd support. We hope the stadium is packed tomorrow. There's nothing more that a footballer wants than a full house. Both teams will give their 100% and we'll see what happens tomorrow.
On the squad strength & analysis of KEB as an opponent
AG: Of course, we 've seen their games and this is not going to be an easy game. They have a good structure, organization, players and they 've all the qualities that you require in a competitive game.
About our situation, this is the time for our Indian players to show their potential and step up.
On the approach from ISL teams in the Hero Super Cup
AG: The idea here is to develop the footballers in India. If you ask me, a better schedule for the (Hero) Super Cup would be in the pre-season. Every team is looking for competitive games in the preparatory phase. This is the first time it's happening and while the the intentions are progressive, it would be better to approach it in a way that it helps everyone.
On KEB Dudu's scoring form
AG: We know them, and their game. They 've done well and won against FC Goa and Jamshedpur FC in pre-season. Right now it is important for us to play well against KEB our only concern is how good we can play tomorrow.
On facing KEB in a competitive tournament as a player
ST: They're a big club, right? They've been around for a long time. But for me and for all of us, we're treating this like we would treat any other game. We want to win, and our attitude will remain the same.
On leaving it late against Arrows and a potentially tougher opponent in KEB
AG: Like I said before, we won (against Arrows) in extra-time, Bengaluru FC won their game in the last minute, Chennayin FC lost theirs in penalties and Jamshedpur FC went to sudden death. There are no easy games in football today. I know KEB wants to do well so it 's going to be a tough match. The reaction of my players to win that game against Indian Arrows was incredibly good, I felt proud of them and that 's why we are here.
On most Hero Super Cup matches going into extra time & penalties
AG: It reiterates the same point. The games have been equal. And in a competitive nature like a knockout tournament, a team will always think that it's better to not lose and take it maybe to extra time or even penalties. Its quite normal in tournaments like these.