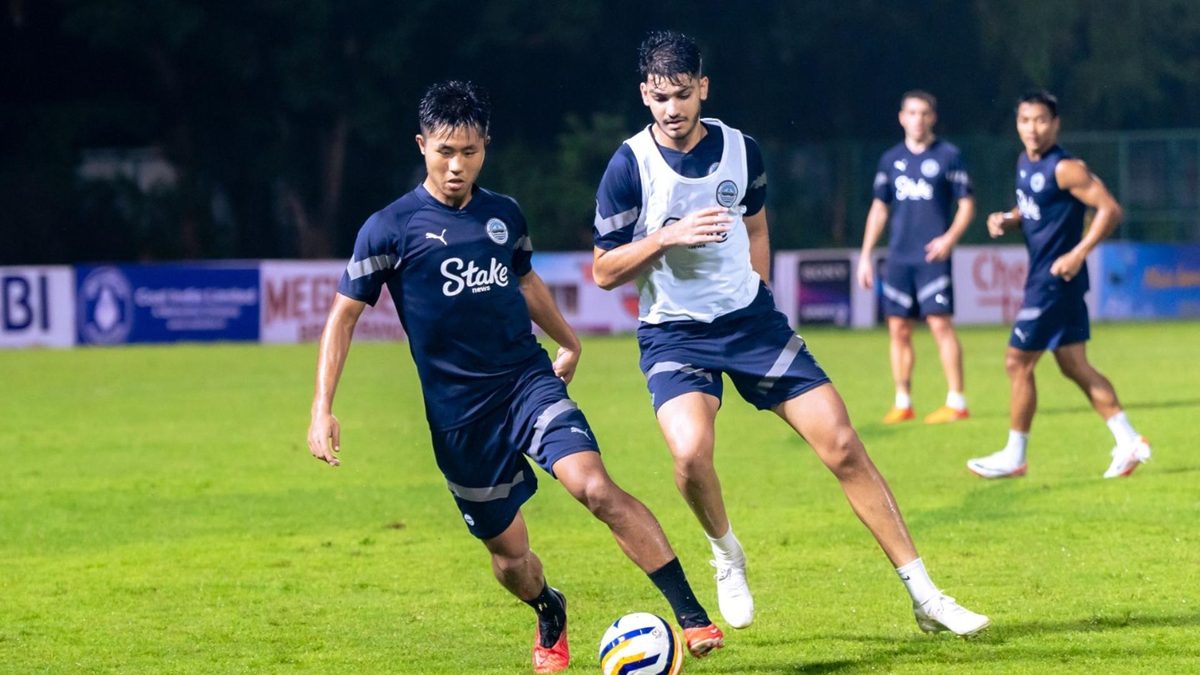 Having already qualified for the Quarterfinals of the 2023 Durand Cup after two wins in two, Mumbai City prepare for their third Group B game against the Indian Navy Football Team tomorrow at the VYBK in an afternoon kick off at 2:30 PM IST.
The Islanders followed up on their 3-1 win against Mohammedan SC in the opening game with a comfortable 5-0 win against Jamshedpur FC. In a game that saw fresh faces in the starting XI and important minutes for our young Islanders, Mumbai City ran out comfortable winners thanks to a brace from Jorge Pereyra Díaz and goals from Alberto Noguera, Yoëll van Nieff and Vikram Partap Singh.
Ahead of the Islanders' outing against the Indian Navy, Des Buckingham stressed on the importance of continuing to grow and develop with each passing game as he said, "Tomorrow will be a continuation of what we've done in the two games before this and of course, building on the pre-season friendly game we played in Thailand. For us, it's about try to get fitter, sharper and continue to evolve. Firstly, our target is to go as far as we can in this tournament and secondly, to make sure we're as good and as sharp as we need to be for the first game in the AFC Champions League in September."
Young Vikram Partap Singh made his first start of the season in that 5-0 trouncing of Jamshedpur FC and the 21-year-old gave a good account of himself with a goal and an assist on the night. The forward from Chandigarh was confident about building on his exploits last week as he asserted, "It was a great game for me, scoring and assisting, especially in my first start of the season. I really want to take my chances, contribute to the team and I hope I can carry on from my last game into the matches that are coming up."
Much like Vikram, the Islanders' core is a very young one. With young Vikram and Apuia getting starts, there were important minutes in store for the likes of Ayush Chhikara, Gurkirat Singh, Halen Nongtdu and Sanjeev Stalin. Speaking about trying to strike a balance within his squad, Des Buckingham said, "Our squad is a very young squad. To give you an idea, the average age of our Indian players is 22 years old. While we have good young players, the average of our entire squad is very young too."
Buckingham added, "We need to balance the youth with the experience we have in the squad, whilst working toward what we want to achieve – to make sure we get players in the condition we're going to need them in for the start of the season but also making sure the young players are able to demonstrate what they can do, whether it's from the bench or from maybe a start."
Where To Watch
The game will kick off at 2:30 PM IST on the 19th of August 2023 and will be broadcasted on Sony Sports 2, Sony LIV and Jio TV. For our global fans, you follow all the action LIVE on our official Twitter account - @MumbaiCityFC.