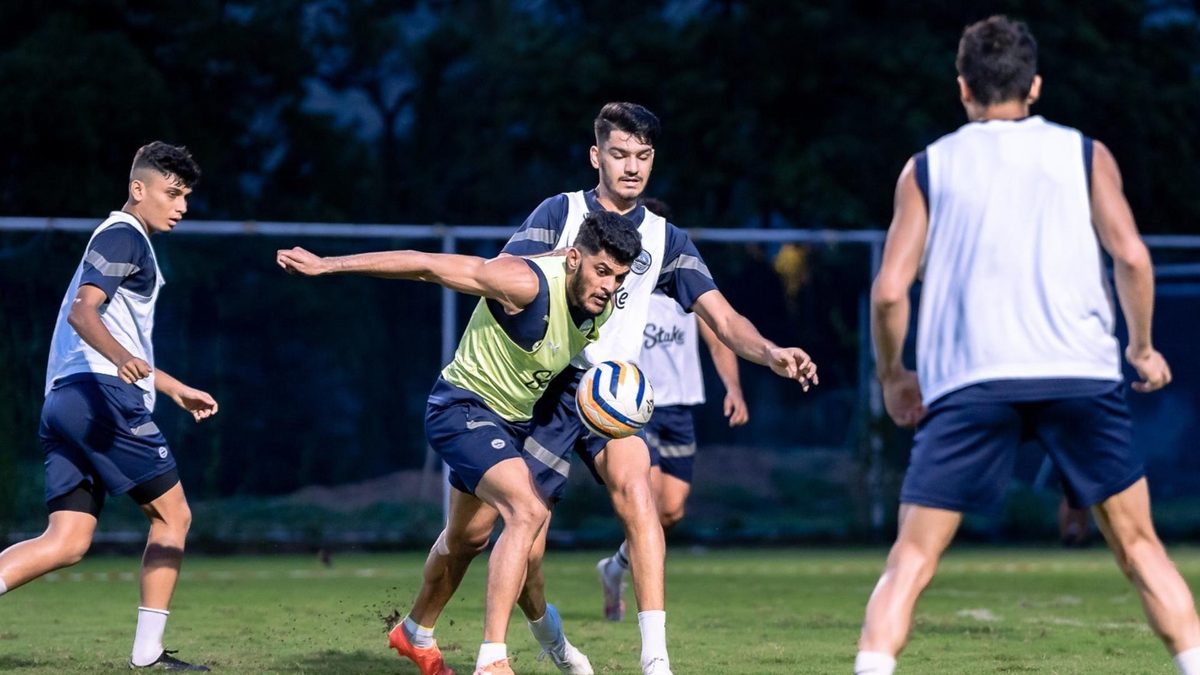 With a comfortable win in the bag in their 2023/24 season opener, the Islanders are back in action again. Mumbai City will look to consolidate top spot in Group B as they take on Jamshedpur FC in the second game of the 2023 Durand Cup at the VYBK here in Kolkata, with action kicking off at 6 PM IST.
After finishing last year's edition as runners up, Mumbai City began their hunt for the 2023 Durand Cup in style. First half goals from Rostyn Griffiths, Jorge Pereyra Díaz and Lallianzuala Chhangte gave the Islanders an unassailable lead in just 35 minutes before David Lalhlansanga scored a consolation for the hosts as Des Buckingham's side rolled over the opposition with a 3-1 win.
Pleased with his side's comprehensive performance in the opening fixture, Des Buckingham said, "I'm very happy with first competitive game of our season against a strong Mohammedan team. To get off to the start and play the football we did in the first half was very pleasing to see. Now it's about making sure that we can put in that performance over a 90-minute period."
With the 2023-24 AFC Champions League on the horizon, the Islanders camped in Bangkok for an intensive pre-season camp and Des Buckingham is confident the Durand Cup can prove to be a vital platform to prepare for Asia's top club competition. He said, "The way we've set up, we're trying to prepare this team as well as we can for our first game of the season, which for us is going to be the AFC Champions League, and making sure all our players are at the level that we're going to need them to be at to challenge Asia's best."
The Islanders enjoyed a record-breaking 2022-23 ISL title and Des believes that the Durand Cup can help his side once again to build an important foundation ahead of the start of the new season. "We brought our first team here firstly, to respect the competition and try to be successful, but we know these are the only competitive games we will get before the start of the season. What this tournament did for us last year is it set us up extremely well to start our regular ISL season and allowed us to go and have the success that we did. This year it's a step higher because our first game will be an AFC Champions League game. So we need to make sure that we prepare ourselves as well as we can (using these games)."
Summer signing Akash Mishra made the starting XI while Dutchman Yoëll van Nieff came on in the second half for his debut for the Islanders, and Des Buckingham was happy with what he saw from his new recruits. "I am very happy with their addition. We want to do well domestically again but we also have the Champions League. Akash has fit in here seamlessly - you could almost not be able to pick him out as being a new player. The environment has allowed him to settle in quickly and as we've seen in training and in this game, the qualities he brings will allow us to develop our game," said Buckingham.
He added, "You also look at Yoëll, starting on the bench – the idea was to allow Apuia, Greg and Alberto to start and get us going and for Yoëll to have a look from the bench initially and then get his first taste of Indian football. He's got some wonderful footballing ability. It's about getting minutes into him, but to throw everything at him from the start (could've been) maybe too much. Now it's about him adapting, taking his time to come through and gelling with that midfield to complement what we want going through the middle. So I'm very much looking forward to what he will bring to us, certainly in the next two games."
Fresh off his debut, Akash Mishra was delighted at getting his first competitive minutes for the Islanders as he said, "It's a great experience to play for Mumbai City and to start the campaign with a win is really a bonus for me and for the team. As a defender, clean sheets are important to me and for the team. We weren't happy with the goal that we conceded, but we'll try to work on that moving forward."
With Jamshedpur FC in sights for the second game of Group B, Des Buckingham is expecting another tough test en route his side's quest to qualify to the knockout stages. "We're looking to get the same preparation and hopefully a better performance. It's going to be a fine balance of using these games to get minutes into the players whilst giving younger players an opportunity to show what they can do. We've seen what the young ones can do at the Super Cup and with the competitions we're in – this one, the ISL, the AFC Champions League and maybe the Federation Cup – squad depth is going to be important. So we want prepare a strong first 13-14 players but we also need to make sure our young players get that exposure to be able to contribute as well."
Where To Watch
The game will kick off at 6:00 PM IST on the 8th of August 2023 and will be broadcasted on Sony Sports 2, Sony LIV and Jio TV. For our global fans, you follow all the action LIVE on our official Twitter account - @MumbaiCityFC.