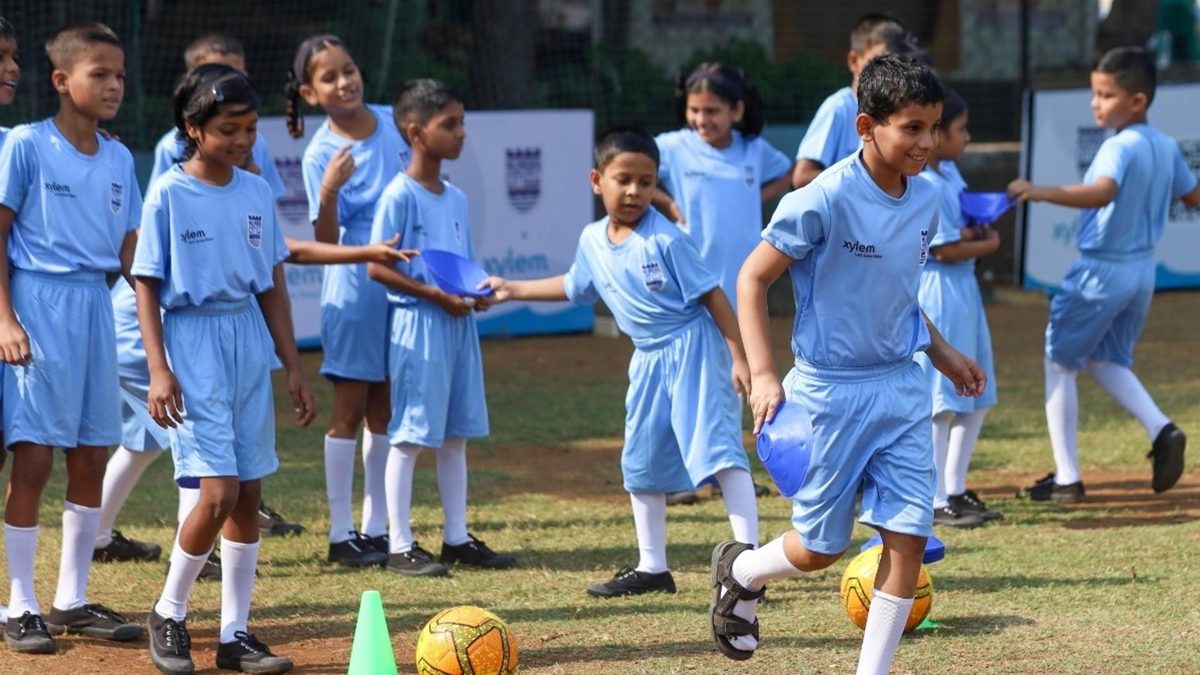 On the eve of children's day on the 13th of November 2022, Indian Super League (ISL) club Mumbai City FC in association with Xylem, their Official Water Technology Partner celebrated a distinctive football-based water awareness festival in Chhatrapati Shivaji Vidyalaya, Dharavi, Sion (W) for the underprivileged children of the surrounding areas.
About 200 kids participated in the grassroots festival. The initiative looked to use the power of football to educate children on the importance of clean drinking water and safe hand-washing practices. Educational sessions were delivered with a focus on 'Germs! What are they and how do they spread?' along with basic football drills and small-sided games in which the children took part enthusiastically, showcasing their skills and passion for the game.
After the sessions, the kids were presented with a certificate, medal and a Mumbai City FC Kit to make sure the knowledge about football, clean drinking water, and sanitation sticks with them throughout their lives.
Xylem is a water technology-based company that is one of the pioneers in its industry. They have successfully established a number of highly sustainable projects in Mumbai and Bengaluru as part of their WASH initiative. The initiative has already trained a number of Young Leaders to provide a football-based educational program that focuses on the importance of clean drinking water and sanitation to children across the two cities.
Mumbai City FC and Xylem's unique partnership pledges itself towards the upliftment of local communities through football and aims to solve the water challenges faced by numerous deprived communities across the city.



Kandarp Chandra, CEO, Mumbai City FC, said:
"The intention behind conducting a grassroots festival is to get children together, to create a safe environment and to allow them to have fun so that they can fall in love with football. We're thankful to Xylem for partnering with us in this unique initiative where we can use sport to bring communities together – in this case, Dharavi – and educate them, address social issues like clean drinking water and sanitation, and give back to the city of Mumbai."
Yatin Tayalia, Managing Director, Xylem India, said:
"Xylem is a leading global water technology company committed to solving critical water and infrastructure challenges with innovation. Our 17000 passionate employees are creating a more sustainable world by enabling our customers to move, treat, measure & test water with our diversified portfolios across the water cycle in more than 150 countries. Education and outreach program are critical in creating awareness about the importance of water. It is amazing to see a massive club like Mumbai City FC understand the depth of the issues and are ready to actively work towards doing so with initiatives such as this Grassroots festival. I am sure the kids that participated today will go back home and educate their parents and peers about cleaning drinking water and sanitation, which will in turn help the upliftment of the local communities in and around the area of Dharavi."